4271 Bronze Way
Dallas, TX 75237
United States
CATEGORIES & HEADINGSdetails >>
Electrical Safety & Maintenance Training | Arc Flash Safety | Certifications | Custom Courses | Consulting

"For over 55 years, AVO Training Institute has continued to lead the industry by developing and offering one of the largest selections of Electrical Safety & Maintenance Training Courses available. AVO is the one-stop-shop for all of your Electrical Safety & Maintenance needs. In addition to our 50+ Electrical Training Courses, we also offer some of the most advanced Electrical Certification Programs, Online Arc Flash Safety Training, Arc Flash Studies, Custom Courses, Consulting Services and more.

Building a strong electrical safety program begins with understanding the needs of our clients and their employees. Identifying what critical issues stand in the way of a successful electrical safety program and addressing the specific regulatory requirements of all types of industries are just two ways the total business solution process begins.

Vendor Showcase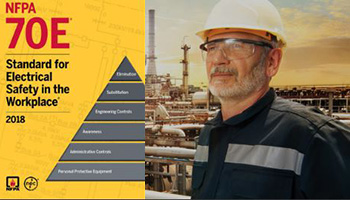 The NFPA 70E Standard for Electrical Safety in the Workplace has been updated for 2018. This updated standard contains significant changes when compared to the 2015 version. The course covers the requirements for working safely in the electrical environment based on the NFPA 70E. Understanding this standard is imperative for compliance with the OSHA mandates regarding electrical safety in the workplace. OSHA specifically mandates employer assessment of generally recognized hazards in the workplace, and provisions for protecting the employee from those hazards. Some of the changes in the NFPA 70E 2018 edition include: the arc flash risk assessment procedures, a revised task-based table to clarify selection methods for arc flash personal protective equipment (PPE), and the electrical safety program requirements for inspection, job safety planning, and incident investigations on electrical equipment.

The NFPA 70E is updated to reflect ongoing research to improve electrical safe work practices and PPE. OSHA compliance and a safe workplace are the desired outcomes. NFPA 70E provides the directions on how to achieve that outcome. Fewer electrical accidents are in everyone's best interest.

WHO SHOULD ATTEND
This two-day course is intended for any personnel who work on or around AC or DC voltages of 50 volts or more, or that are responsible for safety in the workplace. Personnel in any industry where the hazards of electricity are a reality will benefit from this knowledge. This course assists in meeting the mandated training requirements of OSHA 1910.332. Participants will receive the 2018 edition of the NFPA 70E.


COURSE OUTLINE
COURSE DATES & ENROLLMENT
ASK A QUESTION
COURSE OVERVIEW


The NFPA 70E Standard for Electrical Safety in the Workplace has been updated for 2018. This updated standard contains significant changes when compared to the 2015 version. The course covers the requirements for working safely in the electrical environment based on the NFPA 70E. Understanding this standard is imperative for compliance with the OSHA mandates regarding electrical safety in the workplace. OSHA specifically mandates employer assessment of generally recognized hazards in the workplace, and provisions for protecting the employee from those hazards. Some of the changes in the NFPA 70E 2018 edition include: the arc flash risk assessment procedures, a revised task-based table to clarify selection methods for arc flash personal protective equipment (PPE), and the electrical safety program requirements for inspection, job safety planning, and incident investigations on electrical equipment.

The NFPA 70E is updated to reflect ongoing research to improve electrical safe work practices and PPE. OSHA compliance and a safe workplace are the desired outcomes. NFPA 70E provides the directions on how to achieve that outcome. Fewer electrical accidents are in everyone's best interest.

This course is available in Spanish.

COURSE NUMBER
431
DURATION
2 days
SCHEDULE
8:00 am - 4:30 pm
INVOLVEMENT
Lecture
CREDITS
1.6 CEUs
TUITION
$845
WHO SHOULD ATTEND
This two-day course is intended for any personnel who work on or around AC or DC voltages of 50 volts or more, or that are responsible for safety in the workplace. Personnel in any industry where the hazards of electricity are a reality will benefit from this knowledge. This course assists in meeting the mandated training requirements of OSHA 1910.332. Participants will receive the 2018 edition of the NFPA 70E.

LEARNING OBJECTIVES
COLLAPSE
Upon completion of this course, the participant will demonstrate by attaining a minimum grade of 80% on the final exam, that he/she is able to:

Identify common factors of electrical accidents.
Outline the arrangement of the material in the NFPA 70E.
Explain the hazards of electrical work and their effects on the employee.
Describe the main elements in an electrical safe work program.
Summarize the requirements for establishing an electrically safe work condition.
Establish the requirements for a shock risk and read more