197 Cahaba Valley Parkway
Pelham, AL 35244-2716
CATEGORIES & HEADINGSdetails >>
Breathing Equipment and Supplies  //
Testing //
The OHD Quantifit, the gold standard in respirator fit testing. This state-of-the-art instrument allows for self-administered fit tests in less than three minutes. Now available with the new FitTrack Gold software. FitTrack Gold has an updated interface that's easier to use, including many tools that will revolutionize the way data is managed. With a SQL Express database, users will experience more flexibility in data storage as well as reporting functions.

Our roots at Occupational Health Dynamics (OHD) began in serving the occupational health care market in the Southeastern United States.

Historically, we have provided top-quality equipment and services to health care providers of occupational medicine. These products range from vision and hearing to OHD FitTesters, spirometers, intoxylizers, and other products that relate to employee care. Many of these are tied together with software programs that unify the integrated use of the equipment provided.
Vendor Showcase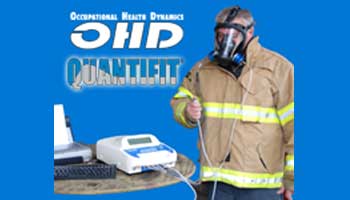 While old technologies are sometimes hard to give up because, "we've just always done it that way," the OHD Quantifit offers an impressive array of advantages that can dramatically improve your respirator program.

OSHA Accepted 5 Step Redon Protocol
NFPA 1500.2007 Compliant
1-3 Minuted Fit Test
On-board Data Storage read more